A lot of dog owners have working breeds but never actually work their dogs. I was one of those for years. But since finding the Alapaha Blue Blood Bulldog breed I have started working my dogs with my livestock. I know there are a lot of Alapaha Bulldog owners who work their dogs as protection dogs doing bite work, and I may get there at some point. But for me, the usefulness of a farm dog is much more important.
To be honest, this is not the first breed I started working with on my farm, but it is the first one I have had success with. My wife got me a red & blue healer cross as a gift years ago after I had mentioned wanting a dog for working our cattle. But that was an epic failure. The only thing that dog wanted to herd was our kids. She was absolutely terrified of cattle. If I took her out into a field with cattle she would refuse to get out of the truck. When I would drag her out she would just hide under the truck until it was time to go.
Alapaha Blue Blood Bulldogs should be able to work in the heat of the south without any issues.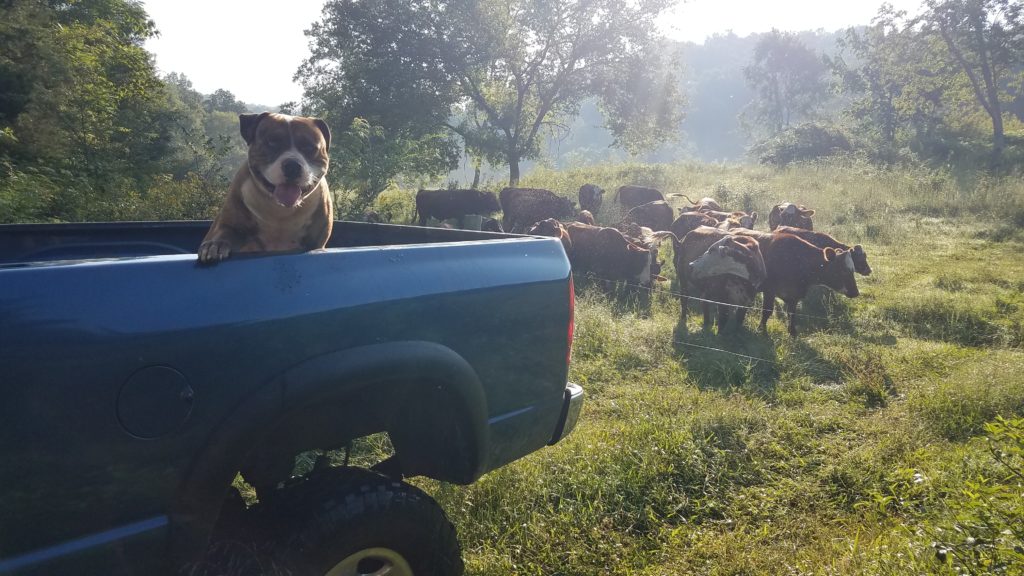 After only two times of being introduced to working cattle, Roscoe has started showing some real promise. I didn't have anyone with me to get pictures of him working but he did great. The first day he was a little uncertain since our cattle are pretty aggressive towards dogs because they deal with coyotes and there were two calves in the bunch that are less than two weeks old. But today Roscoe got right in there and squared off with a bull that thought it was going to run him off. I could see his instincts from the Old Southern Bulldogs in his lineage kicking in as he got excited to be working the cattle.
Alapaha Bulldogs should be confident but have a good temperament.
Here we are heading to the trash dump after a morning of working on the farm. Roscoe's temperament is so good that I can take him anywhere without worrying about him being overly aggressive. Yet I know he will protect my family to the death if necessary.
His temperament is so good that even another dog barking at him does not get him worked up. He shrugs it off until there is a real reason or imminent threat before he reacts. Having a dog that is not reactive to little things makes life so much more enjoyable and gives you the freedom to take them more places without any hassle. Don't get me wrong he is intimidating and we get a lot of looks out in public but as long as you are not a threat he would never be a threat to you.
For a working dog on our farm, an average day consists of some riding in the back of the truck and a lot of walking on the steep hills of our property on the edge of the Cumberland Plateau. We raise our cattle a little differently than most, we use intensive rotational grazing. So we are out moving cattle to a new section of pasture every day, by using temporary electric fencing to subdivide our pastures. I need a dog who can control our cattle and learn quickly how to adapt to our constantly changing routine. I also need one who with an instinct to protect and that can run off predators like coyotes.
If you are looking for an Alapaha Blue Blood Bulldog Breeder to get your next pup from reach out to us today to reserve your pick in our next litter.